Our specialist clinics have been providing their services for 47 years from various locations, and since March 2012 from Al. Pokoju 2a. We've recently moved again, in order to improve the standard of our services. Our new location is at ul. Wielicka 25.

These refurbished and air-conditioned premises are home to a variety of clinics offering a wide range of services, both as part of our contract with the National Health Fund and as private, paid services. These include clinics for:
Allergies,
Dermatology,
Endocrinology,
Pediatric Gastroenterology,
Speech Therapy,
Strabismus Treatment,
Ophthalmology,
Nephrology,
Neurology,
Neonatal Care,
Paediatrics,
Psychological services for children and adolescents,
Pulmonary,
Newborns with Hip Dysplasia
Rheumatology,
Physical Therapy,
Mental health services for children and adolescents.
We offer a full range of analytical and diagnostic tests, including USG, EEG, spirometry, skin and patch tests.

Although our main function is to provide health services for children and adolescents, there are also a possibilities for treatment of patients older than 18.
Nearby public transport stops are for Trams No. 3, 6, 11, 13, 24, and bus lines: 127, 158, 174, 178. There is also ample parking for cars.

We always strive to improve the standard of our services and the competence of our employees. The high quality of our clinics' services is confirmed by our ISO 9001:2015 Certificate.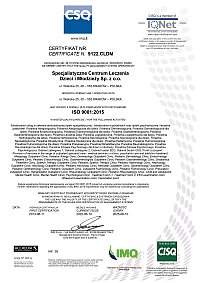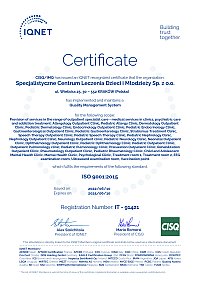 To ensure the smoothest operation possible, we've introduced on-line registration via the forms available here on our Contact page, or directly by email to rejestracja@meddim.pl.